A Powerful Upgrade: Orchestrating projects and achieving perfect safety records

The high risk to manpower, combined with a once-in-a-generation pandemic and catastrophic weather event; it's a feat of both planning and project management that the 24-month long project was completed with Zero LTI & MTI.
Let's consider the delivery of a data centre infrastructure project as a musical performance. There are some obvious things that need to be in place: the conductor relies on each musical instrument to be in proper working order in order to avoid squeaky notes. Each orchestral member has to be in good health; the flautist can't perform if they have the flu. Yet it's the conductor's skills – unseen and unfelt by the audience – that can turn a performance into a masterpiece.
Multimillion dollar infrastructure projects involve large teams of personnel, across many different companies, hundreds of workers, infinite complexities and numerous areas of risk. Yet it's what we don't see that attests to the skill behind the conductor's baton. When assessing the success of this level of orchestration, we look at two 2 key metrics that give us a healthy reflection of this: LTI (lost time to injury) and MTI (Medical Treatment Injury)
The Project: A Powerful High Voltage Project.
At the end of a long and testing 24-month project, the Macquarie Data Centres project team can now sit back and celebrate the successful completion of another large scale infrastructure project, achieving a perfect safety record with no lost time to injury (LTI) during their latest project.
The project was first initiated to help enable growth for a Fortune 100 hyperscaler via complex power upgrades to our Macquarie Park Data Centre Campus. This relationship is typical of the long-standing relationships Macquarie Data Centres has developed with various hyperscalers customers who are actively growing their business in the Australian market.
"Energised" marks the fourth and final tranche of the project which was completed in July 2022 following extensive multi-faceted testing by internal and external power experts, power providers, across both hardware and software. While this milestone date of July 2022 marked the completion of the project, it also marked the pinnacle achievement of Zero LTI & Zero MTI.
Project Risks Of Unprecedented Volume.
A 24-month project may sound routine, but in this instance there were two extreme sets of headwinds, being COVID-19 and unprecedented rain events. Before unpacking the impacts of these unforeseen and uncontrollable events, let's consider the site first. North Ryde is a densely populated area located 15kms from the Sydney CBD ie the Sydney North Zone. Data centres are ideally situated on greenfield sites, to enable easy access for construction and maintenance. The North Ryde project was the polar opposite, with 3.8km of trenching over 6 months required due to multiple services feeding into the existing data centre location. These services comprised water, stormwater, telecommunications services, high voltage electrical services, and high-pressure gas services. In short, every possible service is known to man – and to engineering teams.
The phrases 'complex' and 'fraught with danger' emerge. At times the intersection of the multiple services was so dense, that only highly subtle navigation would do. The Macquarie Data Centre team would frequently dig by hand, in and around the existing web of services, in order to find a way through to the clearer ground, where the Non-Destructive Diggers (NDD) and excavators could then take over. With 11 kilometres of HV cables – the equivalent of 100 football field lengths – and over 100 workers, it was an undertaking that required extreme planning and precision.
COVID-19 played its part too; with logistical challenges such as the supply of components and hardware. Delays on the supply end had a domino effect on the implementation times. But the COVID-19 impact was also felt by the project's staff, who had to observe density regulations on-site. And of course, managing staff illness and resources during such an unpredictable time was also tricky. And then the rains – New South Wales endured weeks of tropical storm-style of rain, the volume of which surpassed records established in 1956. The rain flooded the pits and conduits, creating further delays as work was unable to proceed. Because as every engineer knows, cables and water don't mix.
The Sweet Sound Of Success.
The high risk to manpower, combined with a once-in-a-generation pandemic and catastrophic weather event; it's a feat of both planning and project management that the project completed on schedule and on-budget and with zero LTI or MTIs. But in some ways, it's not surprising: the Macquarie date centres team supported and empowered their 100+ workforce through daily tool talks, high onsite presence, strict process and safety protocols and frequent leadership walks throughout the site.
The unspoken but equally important additional outcome from the project is the improved relationship with key utility and service partners like, the power provider. While Macquarie had worked a number of times with Australia's largest east coast electricity distributor, the project created a different working environment. Thanks to the pandemic and weather, the two organisations had to collaborate extremely closely under adverse and constantly changing conditions. This has forged a new and greater working relationship between Macquarie Data Centres' critical infrastructure service provider.
The Project Manager – and Conductor.
With 20 projects under his belt, Macquarie's Head of Projects Gavin Kawalsky sees himself as a conductor. Bringing a particular soloist into the foreground, while ensuring the ongoing rhythm remains stable. Increasing the volume of one team, without completely muffling the rest. It's fair to say this conductor's talents were tested to the utmost, as he navigated the challenges to deliver the project against all odds, on time, on-budget and again with zero LTI's or MTIs.
"It's normal to manage projects of this significance and complexity. However, nothing about this project was normal in the sense that we were also mitigating against a variety of unforecast project-altering complexities. These ranged from the impacts of a global pandemic to global supply chain challenges to unbelievable state-wide rainfall – any one of which would test the most seasoned operators. There is simply no way we could have achieved the outcomes we did without the resilience and commitment from our partners, contributors and internal team," said Kawalsky when reflecting on the entirety of the project.
Tripling power capacity of the data centre, increasing capacity and resilience, supporting the digital economy, all while deepening relationships with collaborative partners such as Ausgrid. And all while achieving a perfect record for occupational health and safety. This performance is one worthy of a standing ovation for the conductor and his orchestra.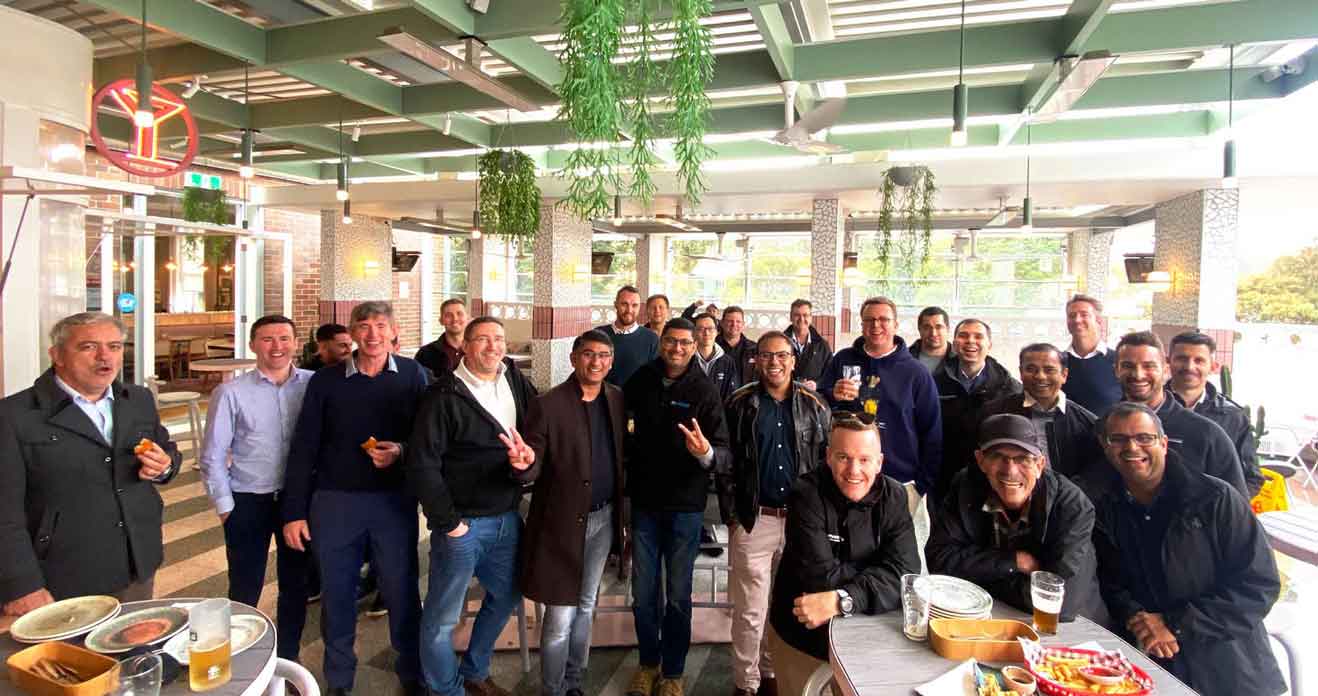 The Macquarie Data Centre project team celebrates the completion of a successful project.