A Guide to Cloud Computing and Data Centres
The terms cloud and data centre are often used interchangeably but without much clarity. Indeed, it is true that cloud computing and data centres are related, but it is important to recognise and distinguish how they fit into the puzzle. That's why at Macquarie Data Centres, we're here to dispel some myths and break down what a "cloud data centre" really refers to.
How are Cloud Computing and Data Centres Related?
Cloud computing has become almost synonymous with business operations over the last decade, meaning that more businesses than ever are looking into cloud-based solutions and services to help streamline collaboration and workflow.
The rise in cloud computing, however, has led to the need for a more pragmatic and effective data storage solution. This has paved a path for more conscious data infrastructure spending and prompted many to reevaluate and improve their existing systems.
In fact, early adopters of cloud technology are now pioneering a shift away from public cloud to various hybrid cloud or multi-cloud environments. As a result, on-premises data centres are becoming more expensive and as difficult to optimise and secure as ever. This has given rise to the prominence of colocated spaces, or external data centres.
Since cloud services are abundant in sensitive data, it only makes sense that businesses are becoming more mindful of the accessibility and security of their cloud infrastructure. This is where data centres come in. Whilst most people who mention data centres are referring to on-prem data centres, cloud companies have their own data centres that they set up and maintain.
Nowadays, colocated spaces offer an alternative range of solutions as a compromise between cloud-hosted data and on-premises data centres. We're here to take you through the key takeaways so you can be confident in your data solution.
What's the Difference Between the Cloud and a Data Centre?
Most cloud service providers operate out of their own data centres. So you can essentially think about the data centre as an optimised and configurated physical environment that houses servers, storage and IT infrastructure required to build and maintain a cloud service.
In order to identify the differences between cloud and data centres, we need to look at shared responsibility. In a basic cloud SaaS structure, the cloud service provider is usually responsible for all of the infrastructure and software. On the other end of the spectrum, in an on-premises data centre, the business is responsible for the entire IT framework, software and data.
In the diagram below we can see how as-a-service models are shifting ownership of data center and infrastructure components from a fully owned and managed on-premises environment towards a service model.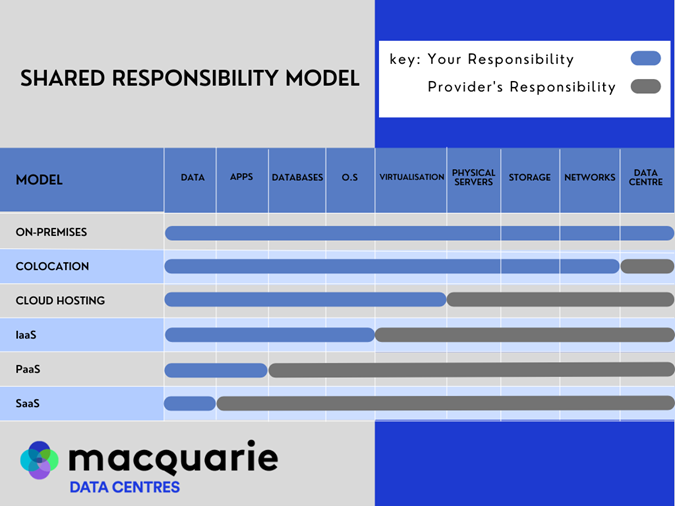 You would be forgiven in thinking that moving your data from an on-prem data centre to a cloud data centre means moving everything to the cloud. However, these days, more and more enterprises have hybrid cloud data centres which provide a flexible mix of convenience, accessibility and control.
With these new models, it's important to outline where the responsibility lies between the providers and the customer. It's easy to suggest that less responsibility is more efficient and better for workflow.
However, responsibility is critical when it comes to physical safeguards that protect sensitive data and configuring optimal conditions for IT operations to thrive. That's why more and more businesses are opting for multi-cloud or hybrid models that make the best of both worlds. A combination of colocation and cloud based models can provide businesses with both the streamlined workflow and control they need.
Are All Data Centres Cloud Compatible?
In essence, yes. All cloud servers are based in a data centre of some form or another. This is why cloud service providers have their own data centres sprinkled around the world in discrete locations.
However, cloud services are no longer as black and white as on-prem vs cloud. They have become slightly more complicated as a result of hybrid models and it's essential to do your research beforehand to prevent any costly mishaps.
At its core, most privately managed data centres will be able to host cloud based servers. However, colocation providers do offer some added benefits both in terms of physical security and streamlined cloud compatibility.
Indeed, most early adopters of public cloud have begun to shift part or most of their IT infrastructure into hybrid cloud to facilitate and manage the abundance of sensitive customer and transaction data. Industries or enterprises that are responsible for confidential data or require highly specialised solutions have begun to make this transition from public to hybrid cloud for better flexibility and division of IT infrastructure. That's why carrier-agnostic connectivity between cloud service providers and colocation providers is becoming increasingly important.
For instance, leading-edge colocation providers such as Macquarie Data Centres provide streamlined access to public cloud servers via Cloud Services Gateway. CSG provides secure, agile and low-latency connectivity between your private cloud or colocated hosting environment to all of the most popular public clouds including:
AWS
Azure
Google Cloud
IBM Cloud
700+ data centres via Megaport
Google Cloud Interconnect Partner.
Certain cloud service providers will provide streamlined interconnectivity between colocation providers and their services. One of such examples and possibly the most well-recognised is the Google Cloud Partner Interconnect service.
With Cloud Services Gateway for Google Cloud Partner Interconnect, your office, Collocated services, and LAUNCH™  Hybrid and Private cloud models (Macquarie Cloud Services) can all be directly wired up to Google Cloud for:
Increased security – your link is your own, and part of your wider defence-in-depth framework
Lower latency – with a direct, known, short path straight from your service to Google
Interconnect enables you to transfer large pools of data between networks, which can be more cost-effective than VPN tunnels or purchasing additional bandwidth over the public Internet.
Our Cloud Services Gateway is available from all our data centres as well as our Perth and Melbourne PoPs.
Hyperscale Cloud Data Centre.
The constantly increasing volume and variety of data in the last decade or so has led to a greater concern for data centre scalability and capacity.
This is where hyperscale data centres come in.
What sets hyperscale data centres apart from standard data centres or micro data centres is their increased capacity for high-volume data and storage.
Indeed, there has been a huge influx in demand for data-rich online services such as social media, online shopping, virtual reality workloads and cryptography. Moreover, as we keep stretching the bounds of power-intensive computing, cloud services and business intelligence systems are becoming more and more demanding.
This huge volume of data needs to be stored and processed to meet the growing demands of large-scale consumption. While traditional data centres and IT enterprises are sufficient for most, hyperscale storage is becoming increasingly viable for those looking to empower their data and make it more efficient as demand increases.
Macquarie Data Centres offer state-of-the-art hyperscale colocation centres that are purpose-built facilities that allow you to manage your IT infrastructure without the costs of having to run your own on-prem data centre. Our hyperscale-ready data centres provide ample scalability to allow organisations to streamline business operations through better speed, flexibility, security, and storage solutions.
Data Centre vs Cloud: Which is Best for Your Business?
Nowadays, in order to open the door for scalability, businesses have begun to adopt hybrid cloud models made up of two or more different types, as well as an on-prem or colocated data centre.
The key difference to note when deciding between one or the other is the level of control and responsibility over the overall IT environment. Although cloud service providers may leave you with less to think about, the lack of accessibility and control over the physical environment may leave many concerned about performance and troubleshooting.
However, this is why colocation provides the ideal foundation for private and hybrid cloud adoption. Notably, colocation data centres do not provide managed services or software resources to their tenants. Rather, they solely provide their customers with the optimal physical environment (i.e. floor space, rack space, power, cooling, etc.) and it's up to the customer to plan how to best utilise the allocated space.
Colocation offers a great degree of scalability when it comes to allocating resources and data collaboration across multiple cloud systems. At Macquarie Data Centres, our clients also have 24x7x365 access to a team of 200+ engineers security cleared to government standards. Our remote hands and feet services mean you can easily deploy projects and troubleshoot from anywhere in Australia, or the world.
At the end of the day, if you're using a cloud platform, your data is being held in a data centre of some form or another. However, it's worth thinking about optimising your multi-cloud environment through colocation.
If you're interested in learning more about how a combination of colocation and cloud can benefit your business, be sure to head over to our comprehensive cloud vs colocation breakdown for more info.