Certifications & Standards.
At Macquarie Data Centres we recognise how important security is when it comes to protecting your data. We're experts in seriously secure, sovereign and compliant colocation service and our Sydney data centres have been benchmarked to adhere to the highest technical and operational standards.
We're committed to more than just meeting industry standards, We are dedicated to ensuring your data and critical applications are protected. That's why we continue to innovate more efficient security solutions that not only mitigate risk but to ensure your data is protected with the highest levels of security.
Our compliance programs and certifications are extensive, making us one of the most certified data centres in Australia and the world.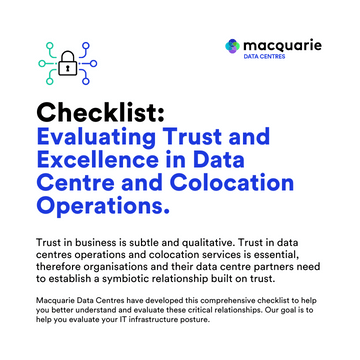 Evaluating Trust and Excellence in Data Centre and Colocation Operations Checklist.
Macquarie Data Centres have developed this comprehensive checklist to help you better understand and evaluate these critical relationships.
Frequently Asked Questions.