The Cost Of Colocation: The Definitive Guide For 2022

Owning and maintaining on-premises IT infrastructure will inevitably start to burn a hole in your company's pocket. Moreover, as more businesses begin to grapple with the dynamic new trends that are emerging, the implicit benefits of colocation are becoming clearer. By hosting their data infrastructure and equipment in purpose-built Colocation facilities, companies can leverage the latest technology, 24x7x365 security and certification standards.
This is why so many businesses are turning to colocation as a more reliable and secure alternative for housing their own servers, IT equipment, and data. By separating the location of the business from the location of their IT infrastructure, colocation provides businesses with the flexibility for office relocation, resizing and alleviates potential security risks.
Since colocation facilities require extensive expertise and highly specialised environments, it is imperative that organisations are aware of the factors that can contribute to the quality and cost of colocation. Here is your definitive guide to better understand the intrinsic costs associated with the colocation process. The guide will walk you through how pricing structures typically work so that you aren't hit with any unexpected expenses and feel confident that you are getting your money's worth.
At Macquarie Data Centres, Customer service is in our DNA and we build long term trusted partnerships with our customers and that's why we want you to know exactly what you are paying for when you're choosing the best in the business.
What Is Colocation?
Colocation, sometimes known as "colo", refers to a service that provides businesses with the ability to house their data, hardware and network connectivity in an extremely secure off-premises facility.
Data consumption now sits at the core of modern business processes. Recent digital trends suggest that the explosion of data is just the beginning of exponential growth. Applications are now ubiquitous in our everyday lives and this has subsequently given rise to the dominance of digital transactions, cloud systems and the prominence of business intelligence systems. Inevitably, all of these digital ecosystems leave digital footprints and have resulted in an abundance of data, hardware and systems with businesses struggling to accommodate the physical space and servers required to make the most of big data potential.
Colocation services allow businesses to service their customers globally with full confidence that confidential data like financial records, personal and customer information will be hosted in an environment that has all of the necessary physical, technical and administrative safeguards in place to protect them.
Cost Of Colocation in 2022.
There are numerous factors that may affect colocation pricing structures and in order to highlight these considerations, we have created the following scenario to shed some light on these particular pricing influences.
DASH is a SaaS-based business founded in the U.S. and currently operates within various regions across Asia such as Singapore and the Philippines. DASH has just recently acquired more funding and is looking to expand into the Australian market. They want to establish their Australian headquarters in the heart of the Sydney CBD to capitalise on the growing demand for cloud based software and services. They have identified finding solutions for storing sensitive customer data as one of the most significant challenges in realising these ambitions.
DASH is a large domestic player in the Singaporean market and is confident about their scalability in Australia, though there are worries that colocation facilities may not be flexible enough to accommodate their rapid growth. They have also realised the need for onsite technicians and engineers to assist with any issues they may have whilst migrating their services to Australia.
Moreover, DASH is only looking for the best in the colocation business. They are adamant that their colocation provider adheres to the international standards of certification and ethical compliance.
What are the Impacts of Colocation?
Uptime.
Uptime mainly refers to the guaranteed annual availability of a data centre. In essence, uptime is measured and calculated by how often a particular resource is available throughout all the minutes or seconds of a given year. Offering the best uptime possible is one of the primary business goals of a data centre, as they need to offer uptime to be able to align with the heavy demands of high business-volume enterprises.
Though differences in uptime percentages may seem minute, any risk of potential downtime in a data centre can result in unattained revenue or major delays to operational processes for a large business. For major e-commerce, SaaS or financial broker entities, even milliseconds of latency can lead to millions of dollars in lost revenue. At Macquarie Data Centres, customer centricity is at the heart of everything we do and that's why we've ensured a 100% uptime across all our sites for the last decade, making for the best customer experience in the industry.
Bringing it back to DASH, seeing as they have a reputation for reliability and optimal user experience in their domestic market, they want to ensure the highest standards for their colocation host of choice. They can feel reassured with Macquarie Data Centres knowing that they are dealing with a Tier III and Federal Government certified provider.
Delivery Of Power.
The reliability and cost of electricity is a significant factor that actively contributes to colocation hosting costs. There are many different pricing structures and some colocation hosting companies, especially ones that operate on a larger scale, may tailor their power rates to find optimal solutions for their customers. Some standardised billing models may include:
Flat rate (per circuit) – The hosting company charges you in the form of a flat monthly fee for each circuit provided to your allocated space and it is the most common colocation pricing structure.
Power capacity kW (prepaid power billing) – When you sign up for prepaid power billing, you are committing to a set usage (e.g. 1000kW). For many businesses this is the pricing model of choice, as it eliminates the hassle of multiple pricing variables and allows you to set a fixed monthly expenditure.
Power pass-through (postpaid power billing) – The postpaid power billing structure will only consider your actual usage. Though this may seem ideal, most colocation providers will only extend this option to very large entities who still pay large fees for space requirements regardless of power use.
Most importantly, however, colocation providers need to have backup generators and cooling configurations which allow them to properly manage the deployment of power to achieve intended capacity levels. High-quality colocation data centres, like the ones on offer at Macquarie Data Centres, also offer redundant power to prevent data loss in the case of a utility power outage or natural disaster.
For large-scale, data-centric SaaS companies such as DASH who are anticipating significant growth in the future, Macquarie Data Centres even offers customised power allocations, such as direct 3 phase power for high-density cloud computing.
Dedicated Support.
Often referred to as remote hands, this is another cost consideration when it comes to colocation should be the availability of dedicated support to assist with the smooth running of server operations. Not all data centres will guarantee dedicated support and oftentimes out-calling a technician on an as-needed basis may incur a significant additional fee.
A high-end colocation provider may, however, offer consistent and streamlined services to help troubleshoot any underlying issues with your setup. Moreover, dedicated support costs may also include commercial and design flexibility. Very few data centres will allow changes to space, power and location to facilitate the scalability of your business.
Certain data centres may even restrict you to a specific internet provider. However, like alternative backup power sources, well established and highly regarded colocation providers will offer the flexibility of blended bandwidth. This allows you to transfer your workload to a different provider as a contingency plan if there are service outages with your primary provider. This is a core reason why there is a premium charge for dedicated support in the form of flexibility and technical expertise.
Macquarie Data Centres has a proven track record and over 20 years of experience in providing businesses with flexible services so that they can continue to scale without any concerns. We also have a team of over 200 government clear engineers and a 24x7x365 security and remote hands support for support your needs.
Rapidly growing companies like DASH will be delighted to know that Macquarie Data Centres goes above and beyond to create the ideal environment for you. Unlike standard colocation hosts, Macquarie Data Centres goes one step further to ensure that highly skilled engineers and technicians are onsite 24 hours a day, 7 days a week.
Rack Space Required.
A large portion of colocation costs are determined by the physical space necessary to host the hardware involved. Typically, physical space is measured in rack units (U) where 1U is approximately 19″x 36″x 1.75″ (W x D x H), though these measurements may vary according to your colocation provider and country. There are generally 3 popular options when it comes to rack space and they are as follows:
Half rack colocation – Offers around 20U of total colocation space (16-18U usable space) and is a solid option for small to medium businesses. Some smaller providers may offer quarter rack colocation options as well, but both of these options are becoming exceedingly rarer among large scale data centres.
Full rack colocation – These are the most common colocation space offerings available at your typical colocation facility. They are roughly 42U (38-40U usable space) and can be used to host anything including SD-WAN hardware, VoIP equipment for private cloud servers, GPUs for AI and backup storage for disaster recovery.
Private cage/ private hall colocation – Private cage or hall colocation provides the optimal space for large businesses and global entities to go about their business with minimal fuss. Private cages and halls are only offered by well-established colocation providers, as their wholesale nature means that pricing models are based on the company's specific power and space requirements.
However, it's important to remember that rack space options are not limited to these specifications and can easily be adapted on an ad-hoc basis. In the case of DASH, they are a young and hungry company anticipating steady growth once established within the Australian Market. To facilitate this growth mindset, at Macquarie Data Centres we offer standard racks and lots of them. You can even take a row of racks, a pod, or a room and if you're as ambitious as DASH, you can reserve a private hall for future growth.
Cooling.
The high costs associated with cooling infrastructure are one of the key driving factors in businesses abandoning on-premises data centres and migrating to colocation. Thus, it makes sense that the type of cooling infrastructure used at a colocation facility can have a significant influence on the colocation cost.
Poorly managed cooling configurations can result in excessive heat which often leads to significant stress on servers, storage devices, and networking hardware. This can lead to increases in downtime, damage to critical components, and shorter lifespans for your own equipment. Furthermore, inefficient cooling systems can also cause power costs to skyrocket due to wasted energy.
Cooling technology most commonly used in colocation facilities includes but is not limited to:
Calibrated Vectored Cooling (CVC)
Computer Room Air Handler (CRAH)
Chilled Water Systems (used as part of a wider system)
Cold Aisle/Hot Aisle Containment
Computer Room Air Conditioner (CRAC)
Evaporative Cooling
Free Cooling
Raised Floor
Liquid Cooling Technologies
Efficient and effective cooling systems are imperative to ensure that you can make the most of the infrastructure available to you. At Macquarie Data Centres we don't take shortcuts. We have cutting edge cooling technology maintained by the best in the business to ensure that companies like DASH can make the most of their own equipment and our facilities.
Location Of Your Colocation Provider.
The location and physical environment of the data centre is incredibly important to consider when scouting out an ideal place to house your data. Though location doesn't drastically alter the cost of colocation, it is just as vital to consider when selecting your provider.
Accessibility should undoubtedly be one of the first factors that comes to mind when you begin to consider where to host your IT infrastructure and valuable business data. Keep in mind that if you choose to house your data in a rural area far away from your area of operations, you're going to have to make compromises on speed, stability and convenience.
Another factor that has to be taken into consideration is the likelihood of natural disasters or terrorist attacks. Ideally, you want your data centre to be in an area that isn't prone to flooding, hurricanes or bushfires since they are the main reasons why downtime can occur.
Along with being highly accessible, colocation facilities in urban and CBD areas provide businesses with a wealth of telecommunication services, as well as an ample access to power and water. Though colocation costs in urban or CBD areas may scale with the costs of real estate and utilities in the particular area, the travel costs and unreliability associated with rural colocation may offset any potential savings.
You'll be thrilled to know that our commitment to quality and customer centricity means that Macquarie Data Centres do not charge a premium for prime location. WIth that being said, our facilities do offer all the benefits that come with being located in the heart and soul of the Australian business sector, Business innovation hubs in both Canberra and Sydney.
This is great news for businesses like DASH who are looking to relocate to the Sydney CBD, the heart of big business in Australia. They're mindful that renting a facility in the CBD could be potentially costly, however, they don't want to sacrifice the speed and accessibility of being in the CBD. Using either Macquarie Data Centres's Intellicentre 2 or Intellicentre 3, it's possible to have the best of both worlds. Located in the heart of Macquarie Park, DASH can host their data in a place that's outside their direct vicinity, but still within the border of convenience and for no premium charge on location.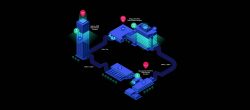 Colocation Pricing Differences Between Different Data Centre Tiers.
Data centre tier classifications were created by the Uptime Institute 25 years ago and remain the premier standard for rating the performance and reliability of colocation infrastructure.
These classifications are made up of 4 tiers which are each defined by specific metrics for maintenance, power, cooling and fault capacity. Each of the tiers are built upon the previous tier, which means that each tier incorporates all the requirements of any tiers that precede it.
Tier certification in general is highly influential on colocation pricing models, as tier ratings indicate that more resources are required to supplement the facility. It is worth noting that tier classifications are not necessarily an indication of quality levels, i.e. a Tier IV data centre will not always perform better than a Tier II. These classifications outline how suitable the provider is for different business operations, not how objectively better they are.
Tier I.
A Tier I data centre is a basic infrastructure design level designed to support information technology that does not require sophisticated storage requirements or strenuous workloads.
The fundamental requisites for a Tier I facility include:
A UPS (uninterruptible power supply) for power drops, spikes and outages
A dedicated area for IT systems
Dedicated cooling equipment that continues to run outside of office hours
An onsite generator for power outages
Tier I protects against interference caused by human error but does not protect against unexpected failure or outages. Backed up or redundant equipment must include chillers, pumps, UPS and engine generators.
In the case of Tier I, the entire facility must shut down for any preventive maintenance and repairs, since failure to do so runs the risk of excessive downtime and severe systems failure.
Tier II.
Tier II facilities encompass all features of Tier I facilities, but include additional redundancy measures for the following equipment:
Energy storage
Cooling units
Heat rejection equipment
Fuel tanks
Fuel cells
Furthermore, components can be removed without shutting down the entire facility, but unfortunately, they are still vulnerable to any form of an unexpected shutdown.
Tier III.
A Tier III data centre includes all the aforementioned attributes of Tier I and Tier II. Unlike the previous two tiers, however, Tier III facilities are not required to be shut down during maintenance or repairs. They have multiple sources of redundant power and equipment, as well as distribution paths which ensure that unexpected shutdowns do not impact IT operations.
Tier IV.
Finally, Tier IV includes all the characteristics of the previous tiers but also houses several independent and physically isolated systems that increase redundancy capacity and distribution paths. This separation is necessary to prevent compromising both systems in the event that one fails. Like Tier III, the environment is not affected by disruption from planned and unplanned events.
Tier IV facilities allow for greater fault tolerance in comparison to the other tiers, since even if a piece of equipment fails, or the distribution path is interrupted, IT operations will not be affected.
However, Tier IV also means that every single piece of equipment must have a fault-tolerant power design to be compatible on a holistic level. This is the main reason why Tier IV facilities are not recommended for all businesses. The mandatory fault-tolerant design of all equipment means that each piece requires continuous cooling to ensure stability. This does mean that in some cases, Tier IV may not be the best option due to excessive power use.