Rethink reliability for your business-critical applications with Australia's most trusted colocation partner.
Our trusted colocation data center solutions are built to protect and secure your mission-critical IT infrastructure. Find out why Macquarie Data Centres are trusted by over 42% of the Australian Federal Government. 
Your business can't grow and accelerate without a reliable IT infrastructure that is protected and interconnected. Macquarie Data Centres' solutions are tailored to provide the flexibility and reliability your business requires.

We are uniquely placed and by partnering with Macquaire Data Centres, you not only get world-leading data centre and colocation facilities, but you also benefit from over 30 years of experience as a leader in the Australian technology, telecommunications and Government industries.

Supported by 200+ engineers security cleared to government standards we pride ourselves on maintaining the highest quality 24x7x365 operations and remote hands support.
Not all Colocation Data Centres are created equal.
Our Colocation eBook will provide guidance and helpful tips on how to select a colocation facility that will help to free time, reduce capital expenditure while helping to redeploy talent to more important projects.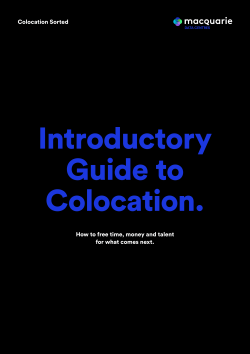 We're committed to your success.
When issues arise, they're often technical and urgent. It's why we're on-site 24/7, with 24x7x365 hands & feet and engineering support to perform tasks on your racks at your request, any time, day or night.
Our on-site Network Operations Centre, and Hosting Management Centre together with our professional services team recognise that an investment of this size is a partnership, and you can trust that we are just as committed to the success of your business as you are.
Our colocation solutions connect securely and seamlessly with inhouse, Hybrid, Private and Public Clouds options so you can retain control and enjoy agreed monthly billing, even as your design evolves over time.
Proudly Carrier Neutral.
We recognize the critical role of connectivity in driving your business's success.
Our unwavering commitment to being carrier-neutral ensures that our customers have access to a vast network of over 700 data centres and network providers. This empowers them with unparalleled flexibility and the freedom to choose the options that perfectly align with their unique requirements.